John Challis
Boycie from 'Only Fools and Horses'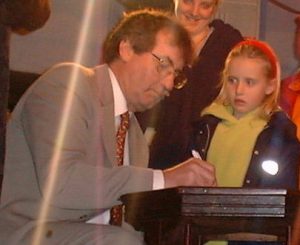 For this year, Leominster managed to book 'Boycie' from Only Fools and Horses to turn on our Christmas Lights.
John Challis drew another huge crowd, packing out Corn Square in all directions on a cold, but thankfully fine, December evening.
John took the time to not only provide autographs for all the fans wanting a signature, but also talked to each of them individually – hugely generous, but it did create long, slow moving queues… and, at times, the trademark moustache was showing severe signs of wilting!